Young poets brought together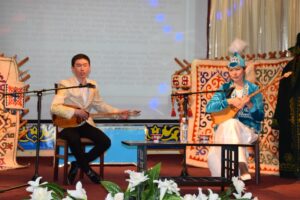 A legacy taken from grandfather to young people in order to improve the outlook of youth-mindedness and organized for the 25th anniversary of Independence of the Republic of Kazakhstan under title "Kazakh black poet – power" among college students in the regional competition of young poets college "Poet" Club student 201 "Treatment "the student Tasbulatov K., student 411 group of " medicine "Myrzabay Aqilgek participants competed.
Tasbulatov K. received a letter of gratitude, Mırzabay Aqilgek took II place. Congratulations on your victory. I wish a lot of writing Keep in mind the interests of the country forever Be patriotic poet.