"Yesterdays graduate – todays partner"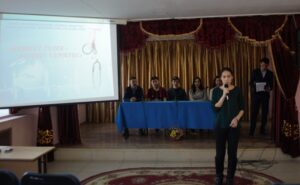 03.04.2018 in the "Aktobe medical colledge  named after Manshuk Mametova" in order to ensure the work of graduates in order to educate students in the professional sphere , a meeting with alumni was organized under the name "Yesterdays graduate – todays partner".
Deputy Director Alipova Z.S opened the event , wishing luck to the graduates  who came  prom the city Aktobe and the districts.
During the event, the head of the dental office "Ak-Dent" Kasimov A.S  offered the students of the department  "Stomotology" to work with them after graduation.
Graduates of the department of "nursing affair" , "Laboratory Diagnostics", "Pharmacy" during an open microphone asked their questions to our quests, and received good answers and after.