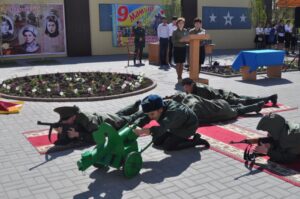 In the Aktobe medical college,  on  May 6 there was a solemn event dedicated to  the celebration of  the 73- anniversary of the victory in the Great Patriotic War, the Day of  the Defender of the Fatherland and the International Day of  Nurses.
      The events was attended  by the representatives of  the regional  health  department and veterans of the college.
      The purpose of the event: the education of a sense of patriotism, the education of  love for the Motherland  and  pride  for  peace and  prosperity,  a sense of  respect for war veterans and admiration for the national legacy of young people.
      At the festival patriotic songs of the war years were sounded, the students showed  a scene  of the feat of  Manshuk  Mametova, which is  named after her name.  The feat of nurses was highly valued  not only in war time, but now proves the whole necessity and importance of the profession.
      Distinguished employees of the college on the eve of  the celebration of the day of nurses, were awarded with a breastplate  of «Excellence in Public Health», certificates  of the Ministry of Health of the Republic of Kazakstan, the Regional Department of Public Health an d the administration of the  college.