"Safe Heart Medium. Medical Ergonomics"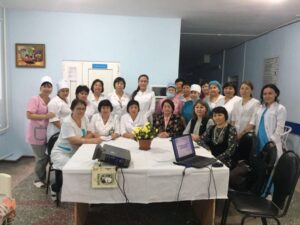 In order to improve the comfort and safety of the patient and reduce the risk of injures of nurses on the sixteenth of October the round table on the theme "Safe Heart Medium. Medical Ergonomics" was organizing by the Teachers from the department "Nursing" of the hero of the Soviet Union Aktobe Higher Medical College named after Manshuk Mametova in the hospital with nurses who from " nursing care" division.
During the activity wеre discussed the rules of biomechanics in medicine, professional counseling on reducing physical burden for medical workers, and also was demonstrated master class with the use of medical ergonomics.