«My Specialization is my Future»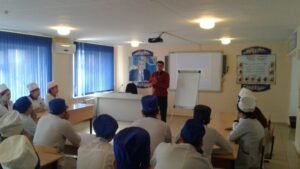 29.03.2018 – officership is a special sphere of human activity and it is different "My Specialization is my Future" , dedicated  to the graduation of "Pharmacy"  and the "Stomotology" department  with a view to maximizing the possibilities of employment of young people by providing them  with knowledge of their isolation. During the event ,
the nurse of the colledge  Nurmagambetov spoke about the tragedy of individual coaching development. At the same time, students expressed their interest by sharing their ideas.