"My Profession is my Future"
    It is important for a person to be able to be industrious and careful, and his profession is to contribute to a great future. Only a person who chooses to do his work will be successful. If he finds himself in the work of his labor, he will be a new force, and he will be encouraged to work.
It is a virtuous wing that can bring you the inspiration of action. As our Abai father said:"Do what you have to do"it is always desirable to find a place where life is chosen by your choice. A person should not be mistaken in two things: the first is the choice of a wife, the second is your profession. And I think you will easily overcome any difficulty if you know your profession right and your own choice. You are future nurses. An active member of a unique society that has developed its professional psychological and spiritual capacities to provide full care for the nurses. To meet the needs of the community and the health care provider, the nursing profession is maintained alone and together with professional health professionals. The nurse's duty is to respect the patient and his right to self-determination. In this regard, it is necessary to adhere to the following principles: non-discrimination, goodness, ability to serve and be loyal to both the profession and the patient.
At the same time, students of 406 groups showed their performances.
Now, we have a question to our teachers who teach today's open-ended group to meet with our hotel staff, and the students are given a clear and thoughtful answer.
At the opening hours, the Deputy Director on educational work
of the College Tazhibaeva Samal Musaevna, Chairperson of the Parent Committee Esengazy Nurlan Izdeunovich, Parents: Ubzhanova Aigerim's father – Salykbaev Kamalbai Ubajzhanuly, mother of Baykulieva Danan – Urazymbetova Ainagul Adilbekovna, college teachers and students spoke and expressed his thoughts.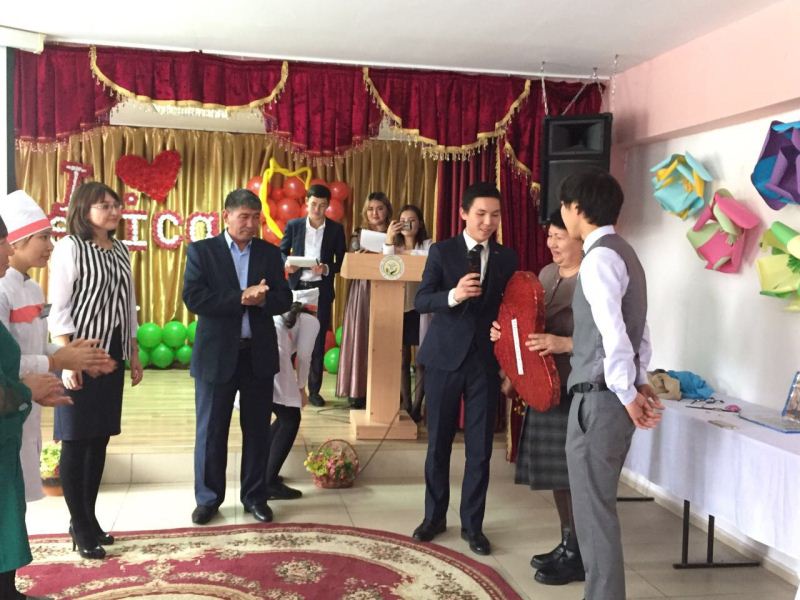 Students of the 406 group thanked the teachers with singing and dancing!Little gameplay for our parents, who gave us this light, was organized.