Master class "Emergency care in pediatrics"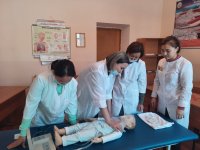 In January CRSD JSC with the participation of specially trained teachers was held a master class on the theme: "Emergency care in Pediatrics" for nurses "center of social service" №1.
The purpose of the master class: introduction medical medium-level personnel of the Department of children with disabilities with the new algorithms of first aid and apply them in their practice to children with disabilities: the technique of chest compressions during a sudden cardiac arrest (by age), artificial respiration in the lungs, seizures, fainting, when ingested foreign bodies in the upper respiratory tract and the care of these children. During the master class, all the above topics were discussed and practical skills were worked out in the simulation rooms by each medical worker. Feedback was established between the participants of the master class and the trainers and the master class achieved its goal.